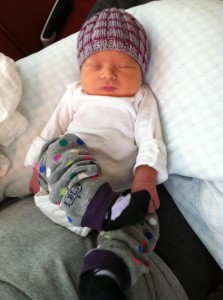 I got to be at another birth and it was an awfully special one, especially close to my heart. This little nugget joined our family almost a week ago and I was present for her first breath of Montana air. She was born right in her Mama and Papa's peaceful bedroom, and she's my niece Evelyn Mae. I am working on a blanket similar to the one I made for Baby Bill Jeff but with a different color scheme. I knit a bit during the labor, but I wasn't working on the hat, that was complete and I had gifted it to Sarah that night, at our house, right after her water broke at our kitchen counter. We were having a bit of a surprise party for her because her birthday was only a few days later and we figured the weekend would be the best time. We were about an hour into the party when ~ "blammo" drenched drawers. We surprised her baby out! Or maybe Evelyn thought the party was for her.
We headed to her house, and I went along for the ride, as I'd planned to be her birth doula. Her midwife visited just to check heart rate, blood pressure and dilation. All looked well. Contractions hadn't started just yet, so I headed back home for an hour, when Bryan texted me things were getting more serious. That didn't take long.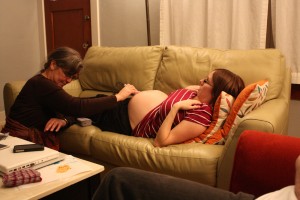 Sarah labored through the night with mighty gusto. Bryan was by her side the entire time and things went perfectly. Mama might still beg to differ, but I'm sure not for long. Sandhano (her midwife (and mine 4.5 years ago)) came back around 5:30 AM and Sarah was ready to push. 1.5 hours later she pushed her sweet baby out right before the light of the morn on October 22nd.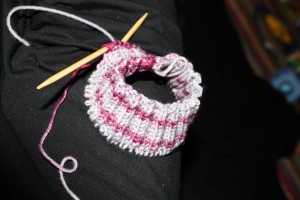 Not sure how many stitches I cast on but I know that I just looked back at another ribbed hat for a babe I'd made before. I suppose I probably did somewhere near 60, of course some multiple of 4 as that is a requirement to make this pattern work. k2, p2 all the way around using size 6 circular needles. The variegated yarn I used was wool from Skyline Yarns purchased a couple of years ago, her Etsy shop has been empty for a while now, but I save it (hoard it) for special occasions…such as this one. I am promised the yarn shop will be back someday. The yarn pictured is sock yarn (fingering yarn) but just because it is "sock yarn" doesn't mean it has to be used for socks only. In fact I've never completed a pair of socks…but I'm always on the lookout for pretty sock yarn.
This little hat is so tiny that I was asked if it was made for a hamster. Uncool. Hamsters don't even wear hats.
I promise to share more photos and love just as soon as I complete the blanket. I'm 1/2 way there. Here is a snip of what it looks like (a bit before the 1/2 way mark) and Thanksgiving felt project my sister (Sloane's Mama) and I are working on.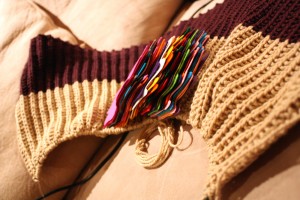 Welcome to the world sweet Evelyn. We all adore you!