Bagel Turkey, Cheese and Tomato Sandwich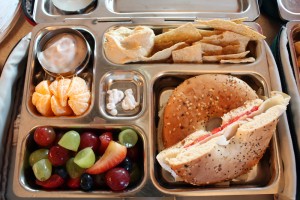 The bagelwich is irresistible. This one in particular is filled with turkey, cheese, and fresh sliced tomato right from our garden. The other version of today's cold lunch doesn't differ much.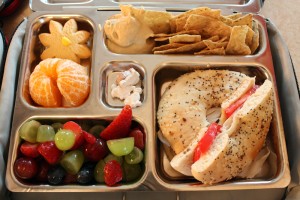 In fact now that I look the only difference is that one of my kids gets a sweet treat and the other has some soy yogurt. The rest of the lunch: clementine, our ever popular fruit salad (green grapes, red grapes, blueberries, and strawberries), vitamins, tortilla chips and hummus, strawberry soy yogurt or a lemon daisy cookie and that's a wrap!