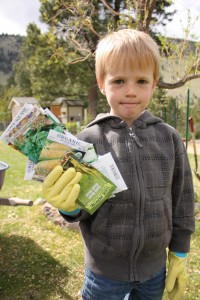 So the first day wasn't too bad, until my brother-in-law and sister-in-law came over to barbecue. I wanted a tasty cheeseburger from the grill pretty badly. Unfortunately, for me, I also lost my partner in crime yesterday. My husband already caved. He wasn't interested in drinking what he called a 'vanilla sand shake' three times a day. I however enjoyed another one for breakfast this morning. It isn't that horrible…it's not something I'll want to replace a meal with after the cleanse is over, but it isn't awful. I don't however feel very cleansed today (yet), but maybe that is why the cleanse is 5 days long. I don't really feel much different than I do every morning when I wake up. I am hoping this cleanse will help me get myself back on track to eating really super healthy foods – from our garden is what I'm looking the most forward to. Look at all of those yummy organic seeds we'll be enjoying very soon!
I did feel really hungry last night, but I stayed up kind of late. When I woke up this morning I wasn't feeling hungry at all, so that was good. I think the hardest part is making food for my kids because I really want to eat everything I make them. Yesterday – grilled cheese, roasted red pepper soup, apples, oranges, yum! Today – I got up and made their tasty lunches before Simon went off to school…and that feels tempting too – just to get one tasty morsel of that healthy lunch…only a few more days! Overall though things are going well. I don't generally feel hungry and I've been drinking lots of Lemon oil and I had some Peppermint yesterday (which is a great oil for curbing your appetite). I have been drinking my Ningxia Red and I know that is giving me lots of energy…so I'll totally make it through Thursday.
Cleansing! The 5 Day Nutritive Cleanse isn't all that bad so far!