Crochet a Heart – Knit one too!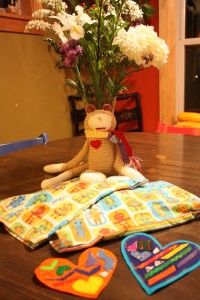 I realize the title of my blog is Mama Loves Knitting…but she also can dig on some crocheting every now and again. For the pattern of the week I'll share a little love: both a knit heart and a sweet little crochet heart pattern. I've heard rumor there are videos on You Tube (approx. 4 minutes long) for you to learn how to do this in no time flat! I found this one that I'm trying the second I get home.
I'm pretty sure Sloaney Baloney's blanket will have some crochet hearts upon it…due to the knitting mishaps that occurred during Lexie's labor – I had 'work fall off needles' more than a handful of times so we have a couple of holes. Whoops. Nothing that can't be patched/covered right up though. Oh and that blanket is purt darn near complete.
Happy Valentine's Day! My little Simon loved his cozy sock monkey and homemade gifties at dawn. I'm one lucky loved Mama.
Happy Knitting and Crocheting!