Baby William really digs his new blanket.
The hat on the other hand…well that is another story. He looks really peaceful in these photos. This was another project I started this past summer for my baby nephew. I told my sister I could finish it up before I left the Midwest on our summer vacation.
I didn't end up finishing while we were still there, but it was really shortly after and it gave me something fun to knit when I had some down time while we played at the lake. On the pontoon boat one foggy morn I made a bit of progress.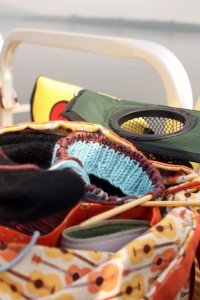 When I wasn't too busy adoring these lovebugs.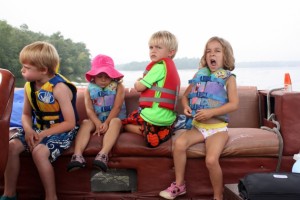 They were a little bit tired this foggy morn.
The hat was similar to most of my other ribbed hats. I used some Amy Butler yarn (didn't know she made yarn until our trip to Crafty Planet). It was simple to knit with. I think I used size 5 or 6 circular needles. I decided to just wing the color changes between the blue and brown color. The yarn is a mix of organic wool and organic cotton, so perfect for a brand spankin' new little baby head.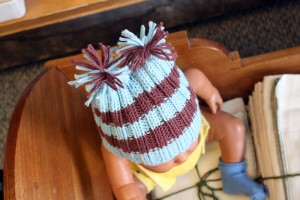 I got the idea to do a double pom pom up top from a hat that my kids had when they were a bit smaller.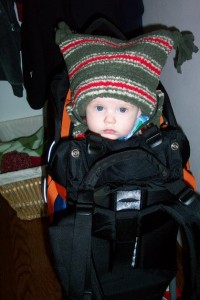 Not a knit hat but a fleece number we got as a gift that I loved. I think I liked the idea of a challenge too, needed to vary my predictable hat just a smidge. I guess my sweater gave me some confidence. I used one of my handy stitch holders while I finished one side and then went back and did all of my decreasing for the other point. I am glad I was putting pom poms on there because I did have some little bits that needed covering. I'm generally quite the perfectionist but when you get right down to it, it just needs to keep the baby head warm.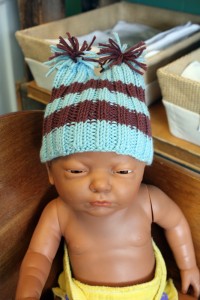 Don't you love my creepy model?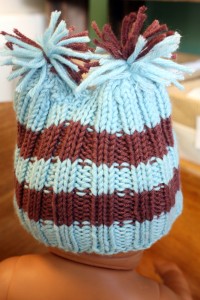 The Back
There was a bit of a gap in the middle (between the pom poms) so I ended up sewing that center up just a titch as well, with some yarn of course and it came together just fine. After all of the loose ends were tucked in you couldn't even tell I'd done anything. I think I also realized how I can make it better the next time I attempt a double pom pom on a ribbed hat.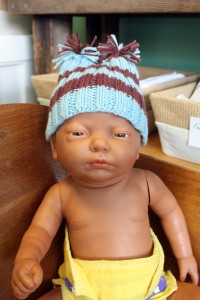 And Baby William, once again, I cannot wait to snuggle you. Hopefully before you are a month old, if all goes as I wish for it to.