Elephant Butt Sandwich and More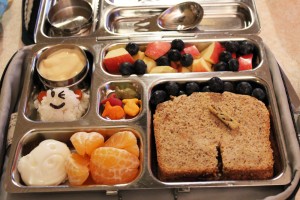 Today we've got ourselves a real doozie of a lunch to share. We'd also like to take this opportunity to introduce you to what our bread machine bread looks like – luckily just the same as an elephant butt, if a tail is provided. We got some new treasures for Christmas and we've been testing them out. And, we've been really horrible about sharing our pictures. Today we've got a happy treat for you!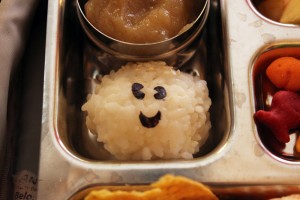 That happy little nori face was made with my new nori punch. It is the best for adorning your sandwiches, rice balls, or anything else you can think of to stick nori to. Wouldn't that make you smile when you opened up your lunch box?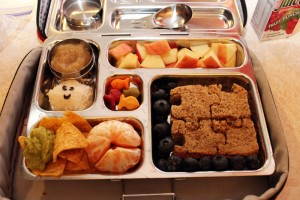 My other new gadget is our puzzle piece sandwich cutter. Pretty into that too. Look at how fun that peanut butter and jelly looks. The rest: clementine, chips and guacamole, rice ball, goldfish crackers, blueberries, homemade applesauce, and a diced up pink lady apple. The first lunch differs only slightly soy yogurt instead of applesauce, the elephant butt sandwich of course and a hard-boiled egg critter (another new lunch-making delight). More soon!