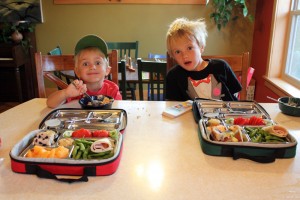 Don't you know that on Friday you totally have to wear your tuxedo to school? This is breakfast time at our house but also lunch prep time – just wanted you to see how stinkin' adorable my kids are.
Here are their lunches…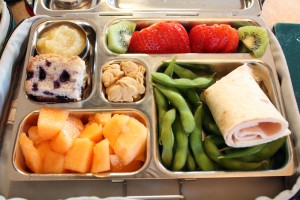 The melons that grow in Dixon, MT are something to write home about. They are famous like our Flathead Cherries. Yay MT food! I gather most of these goodies from Farm to Family – they bring groceries right to my front door – local food is where it is at in my opinion. The rest of the lunch is much the same as brother's lunch.
A fan of strawberry, some slices of kiwi, the melon (of course), edamame, blueberry bread, an apple from our very own backyard apple tree, a dollop of organic applesauce, a tortilla with a slice of turkey rolled up within, and some honey bunnies (Annie's) complete the delights for today.
Oh and this…I love that every apple has a star tucked away inside.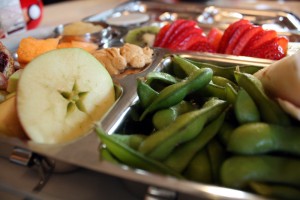 Especially for my little stars!