There are a plethora of herbs in this world that will bring a bit of peace to your soul, and hops happens to be one that I love. This herb is hearty, easily accessible and one that will reappear from year to year. The aroma is recognizable as one that might take you straight to a brewery you've spent time in. Its bitterness is used to flavor beers, but it can do so much more.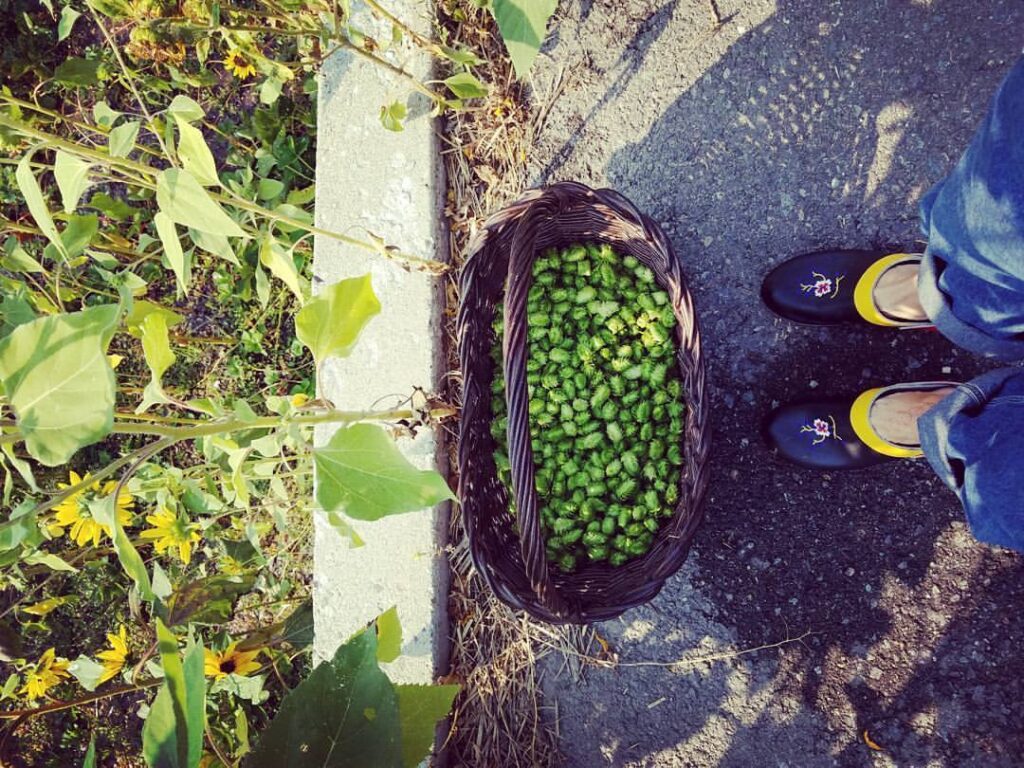 You'll find our homegrown hops in our Beard Oil. We combine hops with other nourishing plants like Sandalwood, Cedarwood, Orange and Frankincense in this grounding blend. This can sooth, relax and calm you, but will also make your beard healthy and soft. You can 'Beard Oil' your hair and skin to achieve similar effects. This soothing herb is a sedative & hypnotic, making it great for restlessness, nervous tension, anxiety and even insomnia.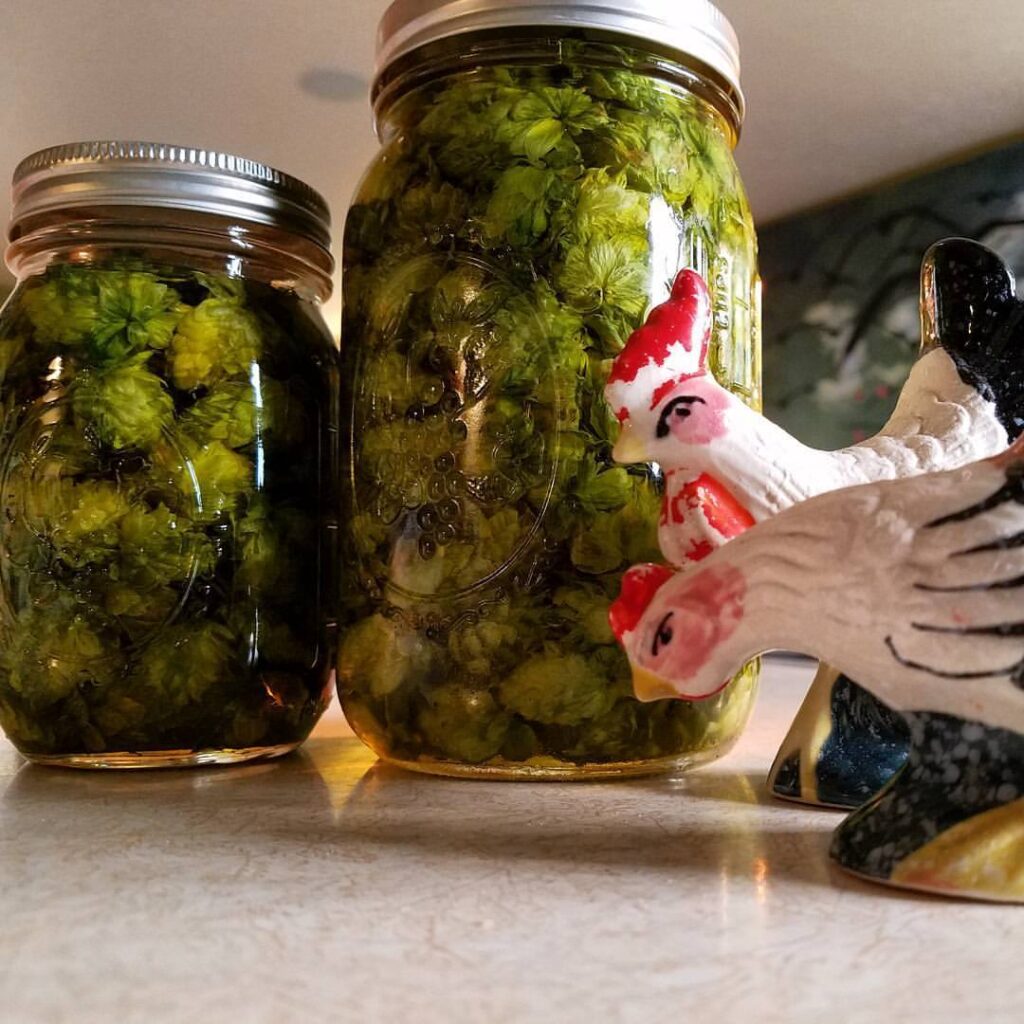 Hops is also an anodyne, which means it can help relieve pain. Make yourself a cup of tea using the dried flower. This can help with intestinal cramping and digestive issues. If you'd rather not ingest hops, and you have achy joints, you could use a salve of hops to bring relief.
Hops is also a febrifuge (can reduce a fever – especially when paired with mint), and a diuretic (a good liver detoxer).
If you subscribe to our mailing list you'll get a free recipe each week. And, this week we're making dream pillows. If you'd rather not sleep on hops, maybe you'd like to carry a bit of it in your herbal pouch. Tutorial here!
Dream Pillow Recipe:
Hops dried
Chamomile dried
Lavender dried
Flax Seeds (or rice) – only if you plan to add essential oils to your pillow
Spritz your hops flowers with a bit of alcohol before you get started. If you like to stitch, maybe you'll sew an itty bitty pillowcase for your herbs. Maybe you knit or crochet and you'll choose that route. If you aren't the crafting type, but you want to try this magical dream pillow idea, just use a muslin bag.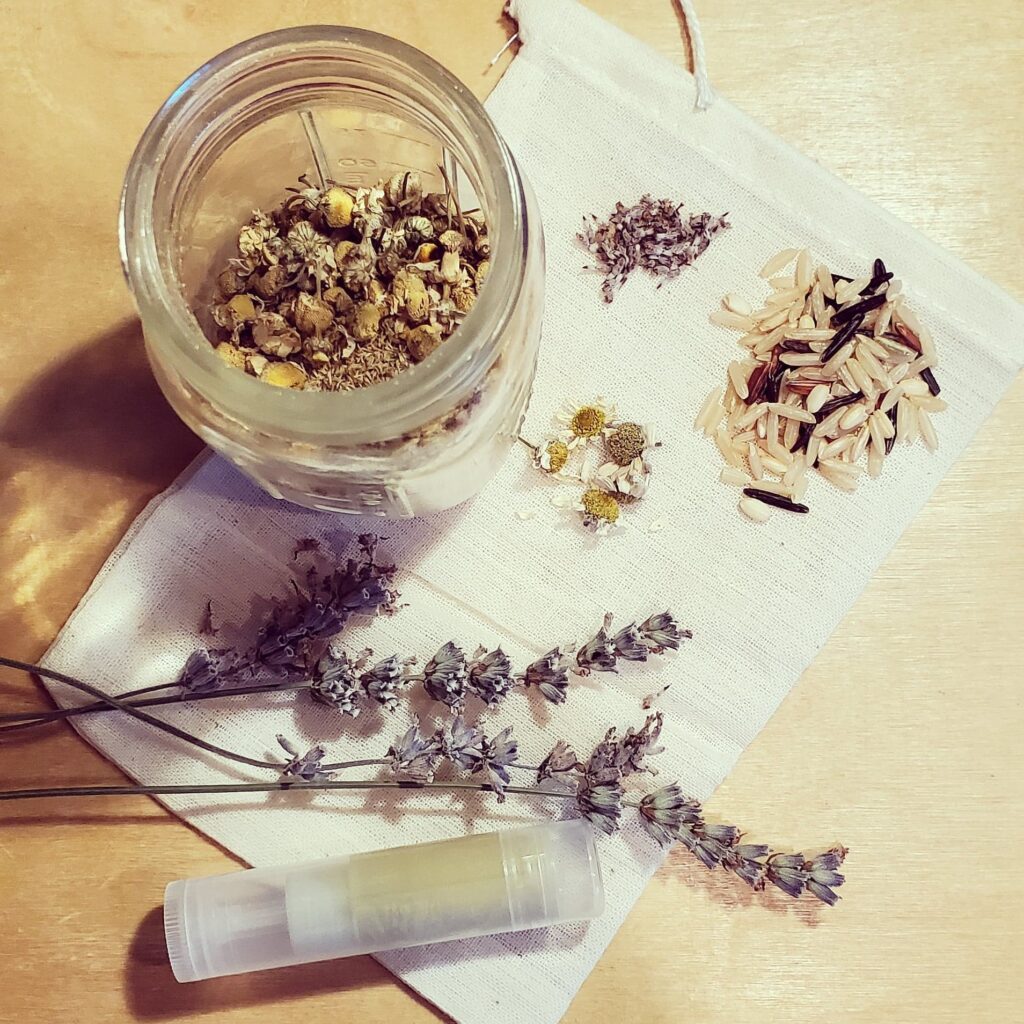 Add the dried plants to your pillowcase (you'll notice I have no hops pictured here) and stitch the pillowcase closed. If you intend to add rice or flax you can drop a drop or two of essential oil on the rice. This can be a substitute for the dried herbs if they aren't available to you and you have oils.
Place your dream pillow in your bed or at your bedside. Sweet dreams.
In our shop this week the Plant of the Week offering is a hops lip balm for $.01. The balm was a trial run for a local brewery and we're working on a new version. Your lip balm will be label free and very hoppy.
Psst: You probably don't want to ingest hops if you're pregnant. I would steer clear until your sweet baby is born.
Cheers!