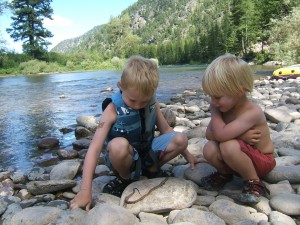 Since we've been doing a lot of this lately….
we sometimes end up with some red shoulders, or red cheeks, just a little too much sunshine. After a float down the Blackfoot River or  the Clark Fork River nothing feels better on our sun-tired skin than a cool Lavender Mist. I use Lavender Essential Oil often for sunburns, and other summer time skin needs, but I only really recently discovered the awesomeness of this mist! I love it!

LavaDerm Cooling Mist is where it is at! Of course if you are a Young Living Member you get a wholesale price which is only $12.75.
A summer must have! If you place an order of 170PV or more before the end of this month you'll get one for free – along with a bottle of Lavender Essential Oil, some Lavender Foaming Hand Soap and Lavender Lip Balm! Lavender yourself right up! I have been. Lavender Essential Oil is a great bug repellent too – check out our bug spray recipe!