Meatloaf, Buscuit and More
As usual we have two versions of lunch today. There are a handful of things that one kid loves and the other kid detests. It always seems awesome to me that kids that come from the same parents aren't just exactly the same.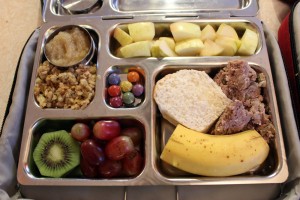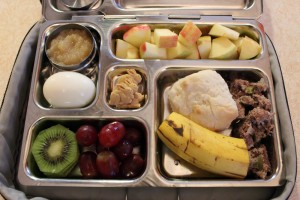 The small differences are a hard-boiled hen egg for some stuffing and some chocolate rainbow drops for some Graham bunnies. The rest of the lunch is virtually the same: 1/2 organic banana, some organic red grapes (might be the last time you see these guys until summer), a bit of kiwi, a delicious buttermilk biscuit, some leftover diced up meatloaf (recipe taken from the Threadgill's Cookbook), a dollop of homemade applesauce, and a diced up apple. And tomorrow is Thanksgiving…so obviously we won't be eating lunch from our PlanetBoxes but we will be eating quite the feast. I've got some lunch posts to catch up on though so you might just be hearing from me. Save the ideas for Monday when school starts back up.
Enjoy your Thanksgiving! I love reflecting on all of the things I'm so thankful for from the year past and the list is long and plentiful. A biggie is our ability to always fill bellies in our house with such delicious meals. Happy Eats!