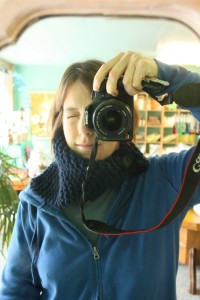 So my Grandma turned 85 a couple of weeks ago and although I didn't get that gift mailed in time for her birthday, I wanted to make her something, it was simple and quick but functional and I'm pretty sure I need to make one for myself when the knitting deadlines end. I give myself these crazy deadlines and make knitting feel like a chore rather than fun.
I have several projects started and they are for special (patient) people in my life, and I've even stooped so low as giving my sister-in-law an unfinished gift for her birthday. I had a few other tokens to share with her, but then I put a hat that I started for her with the two yarn cakes right in the gift bag. She asked me "Are you going to teach me to knit?" Nope I just haven't finished your gift, sorry. Tacky? Maybe a little bit. She knows I mean well though, I hope. And, she will get her cap before the snow flies, I think.
I had a skein of Lion Brand Wool Blend Super Chunky Navy Yarn in the good old yarn cubby so I grabbed that for Granny's neck warmer. I have a small collection of buttons, so I ended up finding one that seemed to be a good size and it worked. I love it when that happens. All I did was knit on some gigantic needles size 15 actually – and I took them on the airplane – I wasn't sure that would fly (they won't let you bring a tube of toothpaste on the airplane but I can take metal knitting needles that are the size of my arm on) but I made it through security. It only took me a few flights to finish and I just did a simple garter stitch. Keep it simple sis. I love the way a garter stitch looks anyway, all bumpy and pretty. I don't reckon I even counted when I did my casting on, but I kept right on going until I ran out of yarn and it was the perfect amount. I like making up my own patterns as I go, but I do wish I could read and follow a pattern without a problem. That sweater – oh that sweater.
So I'm off to bed and I'll leave you with a couple more hilarious photos of Granny's neck warmer, (on me – that's not Granny)  it is so awkward to take photos of yourself in a mirror, too bad my three year old can't really use my camera. I already got a sweet thank you from my Grandma and she assured me my gift would keep her Wisconsin-chilled neck warm all winter.
Happy Knitting from the dorky Mama!