Pasta Salad, Strawberry Pile and More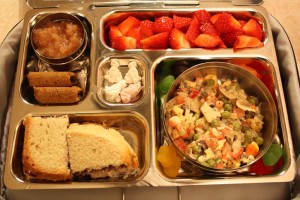 I'm such a slacker when it comes to posting these lunches. I have a whole lot of catching up to do. Again this is taken from the vault. I decided if I include at least one from the vault from time to time I will eventually get through all of the pictures. The problem is I make a new lunch almost every single day…just doesn't work out. I'll be posting lunches until I'm 80.
Alrighty – we've got a delicious pasta salad with fresh green peas (which Mama doesn't care for one bit but sometimes I have to make them for the rest of the family), we've got homemade white bread covered with PB&J, a vitamin pile to hopefully counter those god awful fruit snacks that my kids always want and I've only gotten them once. It seems like I've posted a billion photos with them featured though…hmm. Homemade applesauce, a strawberry pile and a couple of fig cookies will finish off the delicious colorful array of goodies for today. Happy Lunchtime!