PB&J, Fresh Carrots and More x2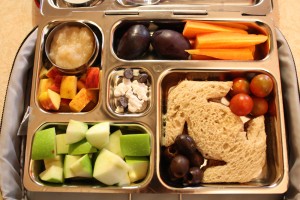 Today we've got a couple of "packing" variations to share. Simon and Gus almost always get lunches that are similar but sometimes not. Today they were almost twinsies.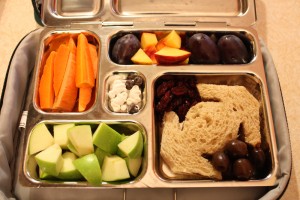 Fresh carrots are almost always in the mix because Mama doesn't know what on earth to do with the amount of carrots we've got left in our life from our garden. Other deliciousness – diced organic apple, black olives, craisins, a TIE fighter peanut butter and jelly, some plums and nectarine bits. Since Gus isn't a huge fan of craisins he'll have some cherry tomatoes and applesauce instead.
To wash it all down today we'll have some water!
Almost the same – just a little bit different.