Quorn Roast Sandwich on Homemade Bread and More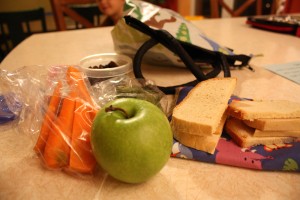 So Simon has 1/2 day of school today. The silly thing about 1/2 days is rather than serving a "hot" lunch the kids all get a sack lunch to eat in their classrooms. Well Simon desperately wanted a sack lunch so he could be just like the other kids at school. So – I compromised and filled the Mimi the Sardine lunch sack from Walking Stick Toys with a delicious 'sack lunch'.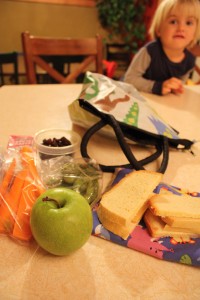 Gus knew he was in the background of this photo – guy is such a hammy ham.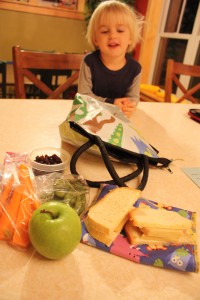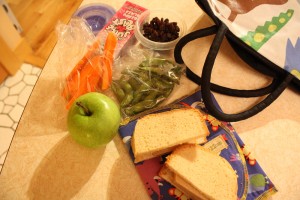 We've got a ripe green organic apple, a little baggie filled with carrot sticks (from our garden), a baggie filled with edamame, a quorn sandwich on homemade white bread, some raisins and juicebox to wash the deliciousness down. Pretty fancy sack lunch guy! Happy 1/2 day of school.