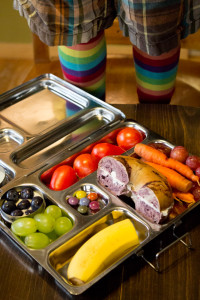 Today was Gus's rainbow day celebration. Colors were discussed the first two weeks of Kindergarten and this was the day he got to wear rainbow colors – of course I wouldn't pass up the opportunity to make him a rainbow lunch.
I am pretty in love with the memory of what he chose to wear this special day. I really think those rainbow leg warmers are carved into my brain for eternity – not to mention the fact that I pine, on a regular basis, for a pair of my own.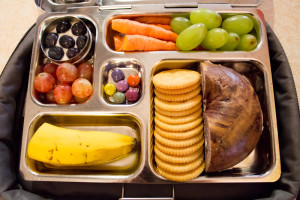 Simon's lunch differed only slightly and was still as rainbow-lish as his brother's.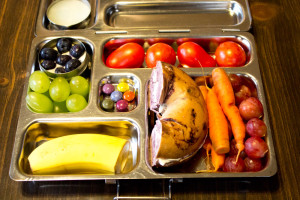 The rainbow brings quite the balanced meal: blueberries atop soy yogurt, green grapes, red grapes, carrots from our garden, 1/2 banana, cherry tomatoes, chocolate drops, & a blueberry bagel with Tofutti.
The only difference in Simon's lunch is that he doesn't care too much for tomatoes so he got a small stack of crackers.
Rainbow lunch is at the tippy top of my favorite list!