Star Fruit, Pineapple and More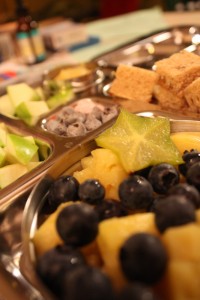 Now that is a pretty fruity lunch. We seriously can't wait for summertime and summertime fruit to be growing in our yard. I guess in Montana that pretty much amounts to strawberries and raspberries – of course the fall brings apples and plums and apricots, etc. No pineapples around these parts, or blueberries in our yard…and that brings me to star fruit. I decided it was high time to get one because my kids didn't even know what it was.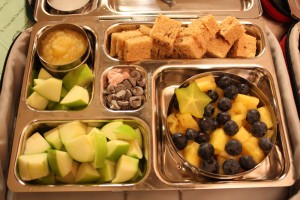 The extra delights in the PlanetBox today are diced organic apples, chocolate chips (YUM!), vitamins, organic blueberries,  organic pineapple chunks, a dollop of organic applesauce, and Peanut Butter and Jelly bites. No crust is the best way to enjoy them.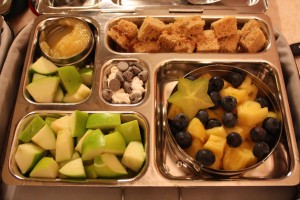 And the brother's lunch is pretty much exactly the same…so there you have it. Happy Lunching!