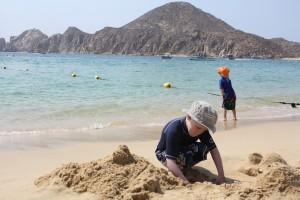 I want something citrus scented right now. I think I'll pick Citrus Fresh. We got home from Mexico a couple of weeks ago and it felt good to leave the daily snowstorms that were busting into our springtime. After a week in paradise it wasn't all bad to come home to a whole lot of this…
but now this mama is ready for summertime!
Citrus oils are so summery, I know it isn't "really" summer yet, hell it feels like it might never be when you step outside, but whatever, I'm going for it.
Summer yourself up with some Citrus Fresh – it isn't too spendy. It is a blend containing the following oils: Orange, tangerine, mandarin, grapefruit, lemon, and spearmint. Retail it is $18.42 for a 15ml bottle. Of course if you are a member you get your 24% discount.
This oil is GREAT for pregnant ladies so if you are pregnant and you don't have it, you ought to treat yourself. And it is a great oil for kids. It encourages feelings of well-being while benefiting the immune system. This oil will aid in opening your lymphatic systems. Always dilute if you are applying this oil to sensitive areas any oil can cause sensitivities, so heed caution, but in my personal experience I've found this oil to be a very gentle oil. This oil can kill airborne bacteria simply because many of the oils in this blend are antiseptics. Diffusing this oil can give you amazing results and it smells SO good. I like to mix it with a bit of Lavender in the diffuser.
This oil can stimulate the right brain to amplify creativity. I diffuse it often in my art room when we are working on different projects.
An interesting little tidbit I just came across: "University researchers in Japan found that diffusing a citrus fragrance in an office environment improved metal accuracy and concentration by 54%." (Taken from my Essential Oils Desk Reference)
I forgot to put a drop of Lemon Oil in my water bottle one morning and a friend that happened to be with me had some Citrus Fresh with her so I put a couple of drops of that in instead and I won't say it was better, but it was just as delicious, hmm actually maybe it was a bit better. It had a smooth taste. Your kid's water bottle could stand a drop for all of the above reasons if you don't happen to be watering yourself. It is a great cool down on a spring/summer day. I've also flavored iced tea with Citrus Fresh before. Of course you can use your Lemon or Orange to do the same, whatever you fancy.
You can apply this oil to your ears, heart, and/or wrists. Remember to avoid exposure to direct sunlight for up to 12 hours if you are applying to your body where sun exposure could occur.
And that about wraps it up. Now let's just hope for some sunshine to go with that citrus delight.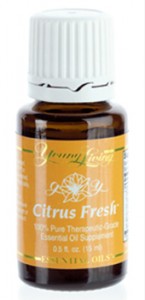 If you are interested in the ordering bonus this month – it is a free bottle of Ningxia Red and Peppermint Oil. To learn more go here.
And as always if you need to order anything please let me know. I am happy to help you, and we are hoping for a discussion group later in the month. We'll be in touch.
Parties Parties who wants a party? I'm doing another giveaway for bookings. If you schedule a party in the next month you will get $50 worth of oils for free – you pick the oils! Contact me if you are interested.