Turkey on Multigrain, 1/2 Banana and More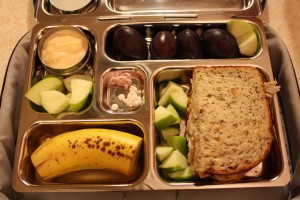 Today we've got a turkey sandwich on multigrain bread with cheddar cheese and a bit of mayo, a 1/2 of a banana (Mama cannot STAND bananas – but my boys LOVE them), diced organic apples, dino vitamins, a dollop of lemon soy yogurt and some backyard plums (from a friend's backyard). Looks pretty darn good to me – healthy too!
To wash it all down we'll have some organic grape juice today.