Turkey Roll, Fig Cookies, Nuts and More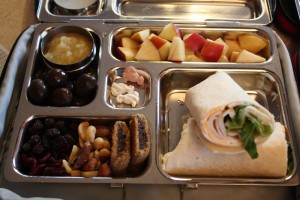 Today the lunch is inspired by August's new favorite food – the turkey roll! Guy LOVES his turkey rolls. This turkey roll is on a flour tortilla, filled with turkey, cheese, lettuce and ranch dressing, Mmmm! The fig cookies are the treat for today, this version of today's lunch has craisins and raisins (Simon's version), black olives, organic applesauce, a diced organic apple and some vitamins.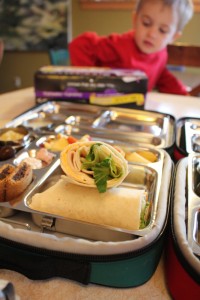 And the other variation of today's lunch. One kid likes nuts, the other doesn't love them, one kid likes raisins the other hates them…so we have to switch a few things up every now and again.
Instead we have chips and hummus. Happy Lunching!