Turkey Sandwich, Mashed Potatoes and More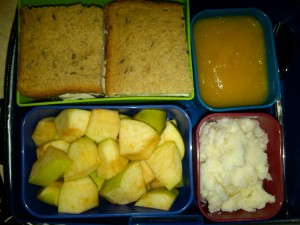 So after a nice vacation Mama had some lunches to make this morning. So we decided to cash in on the very last of the mashed potatoes that are laced with some organic cream cheese and ranch dust. Organic diced apple and some organic apricot applesauce, and finally a nice turkey sandwich with extra sharp cheddar. Mmm. Delicious! Happy Holidays!
Oh and I almost forgot to wash everything down we'll have a bottle full of rice dream rice milk.