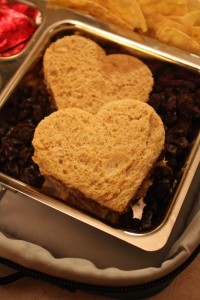 The day of love inspired this Mama to make a delicious lunch…of course everyday lunch is full of all kinds of love but today I had an excuse to cheese it up REAL GOOD! So here we go…
My little Simon Love and that is actually August's lunch in front of him. Looks pretty "Lovely."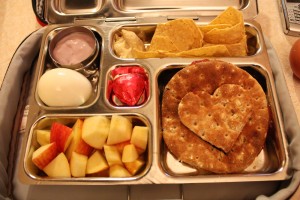 Here is the first selection of the day. It consists of – a hard-boiled hen egg from our very own backyard birds, a small cup-full of blueberry soy yogurt, organic tortilla chips and hummus, and a diced organic apple. The sandwich I was pretty pleased with – mostly because that heart shaped cookie cutter was on the very top of our cookie cutter box (that has 100 cookie cutters in it). I opened the box and said aloud, "Wouldn't it be dreamy if the heart was right on top." It was my lucky day for about a million reasons! I think the only thing I'm missing is that milk chocolate heart – which we also sampled at breakfast today.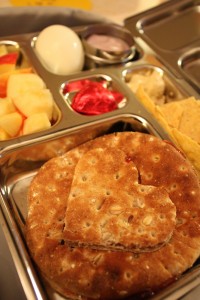 And Simon's lunch differed only slightly. This guy likes raisins the little guy doesn't.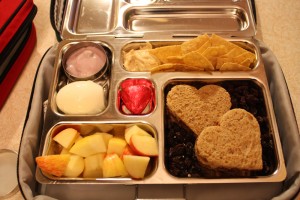 Happy Valentine's Day! Happy Lunching!