May the Force be with you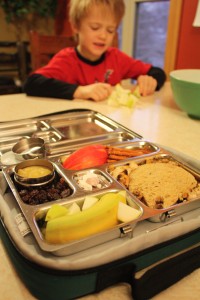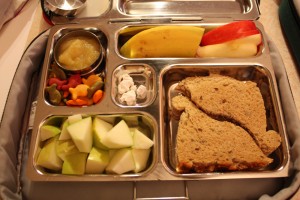 Dino peanut butter and jelly today, well for one kid, and some Star Wars action for the other….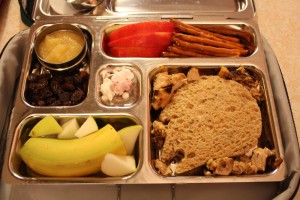 We have a little lover of Star Wars in our family, well actually 4 lovers of Star Wars in our family, so why wouldn't you buy the Star Wars Sandwich cutters?
[phpzon asin="B0058VTD8G" country="US" trackingid="madeyourlunch-20″ templatename="asin-tabs"]
I can't seem to bring myself to waste that excess crust though so it surrounds the ship like debris floating through outer space. Diced apple chunks in both lunches, as well as 1/2 organic bananas. It is actually pretty safe to assume that most everything in the school lunches I pack are organic foods, sometimes I remember to mention it, other times I'm too lazy. Organic applesauce in the tiny cup, a handful of raisins for Simon, and a handful of Goldfish crackers for Gus, pretzel sticks for Simon (even though Gus likes them more), and a sliced up red apple to go with the diced up Granny Smith. And that wraps it up for the day. Oh don't forget to take your vitamins.  Bon appetite!