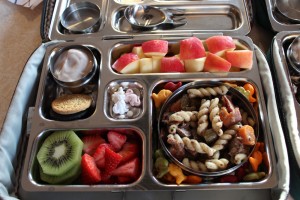 for back to school. Lunches will soon be in full force around these parts. We will still have all kinds of delicious summer harvests to stuff in the cold lunch for a couple of months after school starts.
The main reason I love back to school is because I get to pack lunches again. I hope our little blog will serve as a resource for you when you are out of ideas and I always welcome your suggestions. I'll post your pictures if you send them my way too…share!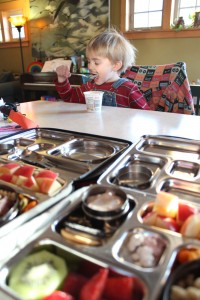 We like to eat breakfast whilst preparing lunch. So we have – soy yogurt, kiwi, strawberries, vitamins, diced pink lady apples, pasta salad, Newman O, and goldfish crackers, & of course love love love. I try and pile as much love into each lunch as humanly possible.