Big Bun Sandwich, Hard-Boiled Egg and More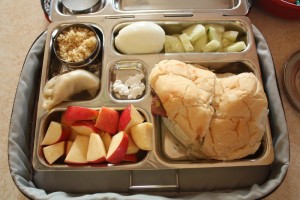 If my memory serves me correctly it looks as if I've got a hot dog sandwich rollin' here. Occasionally I run out of ideas for the main course and I seem to turn to hot dogs in a bind. We like the Hebrew National variety – mostly because Costco has them in giant packs…Costco Sized.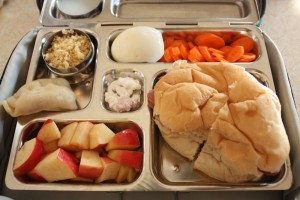 One likes cucumbers – one prefers carrots…the good part about that is that we get to look at two tasty pictures. So here we go – diced organic Pink Lady Apple 1/2 in one lunch – 1/2 in the other, dino vitamins, a potsticker (afterall you know how much we love potstickers!), couscous in a cup what a delight, a hard-boiled hen egg and the cucs and carrots (all organic style). That ought to fill a belly, or two.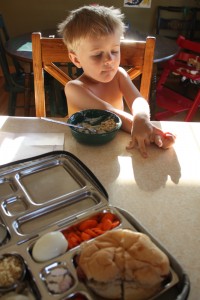 Making shadow animals at breakfast, only in the spring and summertime! That sunshine coming through the windows makes it so much easier to make breakfast and lunch (and even sometimes dinner) all at the same time.