So I've been experimenting with a ton of different stitches, I was told it was best to make a small block (before you start your entire project) to make sure you like the way the stitches look. The problem is that I didn't start off following patterns so I was just wingin' it. It seemed to work out the same way though. If I didn't like the way something was looking I would just take it apart and start over – with a scarf that's easy. So I will share a couple more scarves.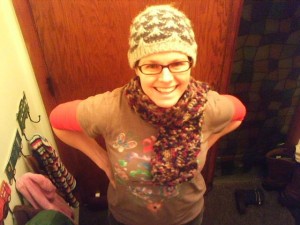 Just wanted to make sure you got to see my pretty friend Nicole! Disclaimer: I did not knit this hat! The scarf I did. It is a wool blend chunky yarn (yarn from crocheting days that I had on hand). It is variegated and I made a checkerboard pattern (sort of).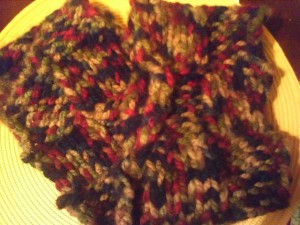 I think you can see the detail a bit more in this photo. I just alternated knitting and purling and then switched when it looked like I'd done about 5-6 rows. I know I could have counted, to be sure, but I was too lazy. It didn't end up being as long as I might have liked it to be – but I only had one skein of this yarn to experiment with. And, turns out I liked the scarf enough to gift it.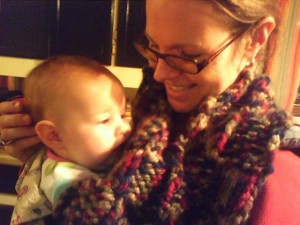 And I had to end this post with sweet Baby Clara – lovin' on her Mama's scarf.  Happy Knitting!