Chinese Noodles, Orange Slices and More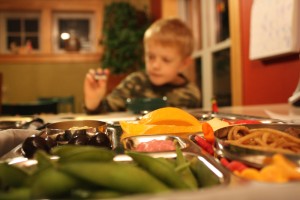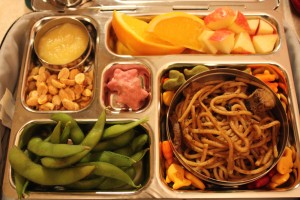 Chinese noodles with mushrooms and steak pieces (it was super delicious hot the night before), edamame, a cup-full of organic applesauce, a mit-full of peanuts (Simon loves him some peanuts!), and some organic orange slices, oooh and the noodles are surrounded by a pool of rainbow goldfish. Yum! Gus's version of today's lunch is slightly different.
Simon definitely likes oranges more than Gus so I added a little pile of diced organic apples to his tray of goodness and the olives in place of the peanuts. Gus isn't a huge peanut fan, in fact he barely even likes peanut butter. Crazy I know.
I almost forgot to mention those delicious strawberry frosted star cookies – Simon also likes those a lot more than Mr. Aug does. Happy Monday!