Circle Sandwiches, Tiny Pear and more Fall Delights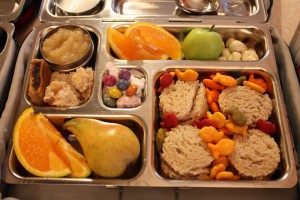 As fall creeps in it always seems harder to fill lunches with fresh fruit, but it is actually just a transition. The plethora of fresh fruit in the summertime is what makes summertime so special. The fall fruits are just as much of a treat though. I mean look at this tiny pear and the tiny apple, at least these come right out of our yard, or within a couple of miles. Orange slices, homemade applesauce, yogurt covered raisins, a fig cookie, some goldfish crackers, and a pb&j cut into tiny circles (with a biscuit cutter) ought to fill a little boy's fall belly right up. The vitamins, to be consumed at lunchtime today, and the colored chocolate dots fill that tiny center cubby right up.
The brother's lunch differs (only slightly).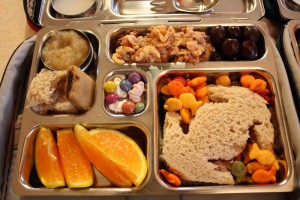 Star Wars Peanut Butter and Jelly up in this piece…and in place of the yogurt covered raisins (Gus doesn't dig them) we've got some everything pasta – it is pasta I made from leftover taco goodies (taco flavored ground Quorn, bacon bits, black beans, tomatoes, cheese and spiral noodles), and some black olives on the side (one for each fingertip).
Happy Cold Lunch!