Dino Sandwiches, Watermelon and More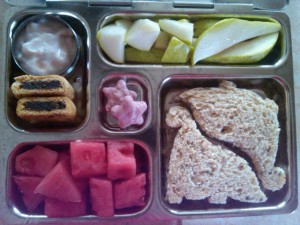 Mmm. We got to use our new lunchboxes again today! If you want one of your own visit Planet Box to find the one that is perfect for you!
Today for our tasty lunch we've got a peanut butter and jelly sandwich dino style – pretty much the best way to have a PB & J. Some watermelon chunks, organic pear slices and dices, a dollop of raspberry soy yogurt, a couple of Fig Newmans and of course some frosted star cookies are the sides for today! Yummy. To drink – an organic juice bag in the front pocket of the carry bag. We are still waiting for our new water bottles! Happy Lunching!