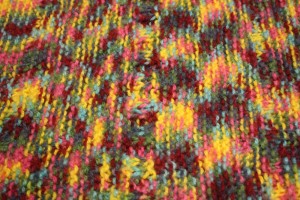 Finally finished up the blanket…and it is en route to Madison to sweet little Clara. I started crocheting her one back in June before she was born, but once I learned how to knit, I decided that crocheting was for the birds – well not really – but knitting this up was a lot quicker for me. I still really like crocheting too and luckily there are many projects where these two abilities go hand in hand. I used size 11 needles and this yarn was pretty chunky and it all came together pretty quickly when I would actually sit down and work on it. I mostly knit the entire thing but did a few rows here and there where I would knit two, purl two (k2, p2) just to add a little bit of variation.
So my blanket ended when my variegated yarn ran out. It ended up being really soft and actually a pretty perfect size for just a lap blanket, but great for a cuddle blanket for a wee one. It was pretty much square when I was done.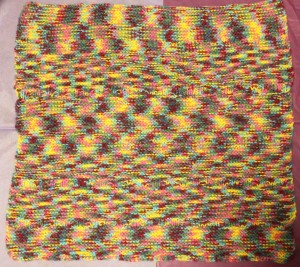 And of course we had to test it out before sending it. Hopefully little Miss Clara will pose in a photo for us that I'll post as soon as she gets her gift. Since I'm sure you're all dying to see her sweet little face again, I know I am!
My little testers seemed to be fans of the cozy blankie – that's always a good sign. So onto other projects, next my plan is a bag/satchel of some sort.
I have a fun new book that I just got called Head to Toe Knits by Zoe Mellor and there are several projects in there I plan to attempt.
[phpzon]"","","","",1570762201[/phpzon]
I'll dive into my yarn cubby to find the perfect yarn and I'm kind of thinking I might do a felted variation of something, I've been dying to knit and felt something, so I think that's my plan.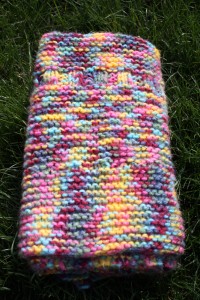 Still working on this…whenever I get a wild hair. And someday I'll finish at least this one! Who knows if I'll ever make two – no just teasin' I will!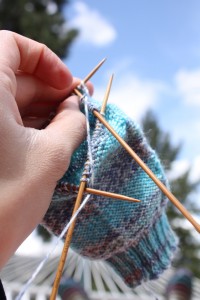 Happy Knitting! Pull up a hammock and knit in the sunshine, who says you can't knit in the summer?