First Day – Cartoon Lunch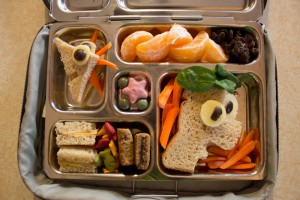 I found a really awesome picture on the "net" of Phineas & Ferb, in food form, and I decided I'd try and recreate something to really blow these guys away.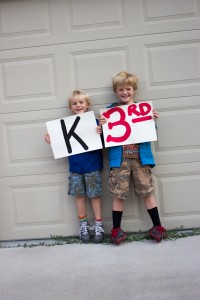 With the reveal the little one thought it was Tom & Jerry and the big one thought Ferb was a dog. Strike one for Mama. There weren't any other strikes today, thankfully, but I can't say I'll be attempting any other famous toons in the near future. I'll just stick to smiley rice balls and smooshed egg faces for the time being.
The first day of school was marvelous, the second day I cried a lot. If you want to read about it, if you like stories about crying moms, you can check out the powerband!
For lunch: Sandwiches are Tofurky bologna, rice cheese, on Wheat Montana bread, in the shape of Phineas and Ferb. The eyes are made from cheese cut into circles and black olives. Carrots, (carrot hair), clementines, raisins, strawberry star cookie, rainbow chocolate drops (green), Goldfish crackers, fig cookies and spinach hair for Ferb complete the rest of the fun first day cold lunch. Nom!
Kindergarten and 3rd Grade here we come!