Floppy Burrito, Carrot Sticks and More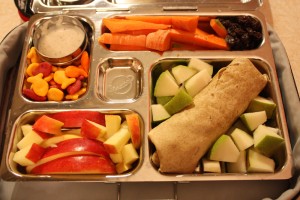 The PlanetBox is full of goodness today! Carrot sticks and ranch for dips! My kids love dipping pretty much anything in ranch – just like their Mama. A sliced up red apple and a diced up green apple – who doesn't love a double apple lunch? A grip of raisins, a floppy lookin' bean and veggy cheese burrito and to top it off a handful of Goldfish crackers – all naturally colored these days, way to go Goldfish!
To drink – which I've been neglecting to mention lately we'll have an Honest Kids Juice Bag. Delicious!