Full Beaver Moon Giveaway
Thank you to all of these lovely women-run businesses for this magical Full Beaver Moon collaborative wood themed prize package. We highly recommend you visit each shop, you won't regret it. Remember Shopping Small directly impacts our families, and we thrive on your support.
A quick congratulations to Roy B. of FL. He was the winner of our Warm Fall Giveaway! A bit from Roy, "I purchased the Pit Stick just to try it out. I will buy again since it works very well. I also like the scent. When I purchased I saw the sweepstakes and decided to enter, not expecting to win. Thank you very much. I am retired and live on a lake. I enjoy fishing and just relaxing. I grow a garden for fresh food year round."
Onto our next Giveaway!
All four shops are offering sales and/or B🌕G🌕S in their respective stores. Links are below. xo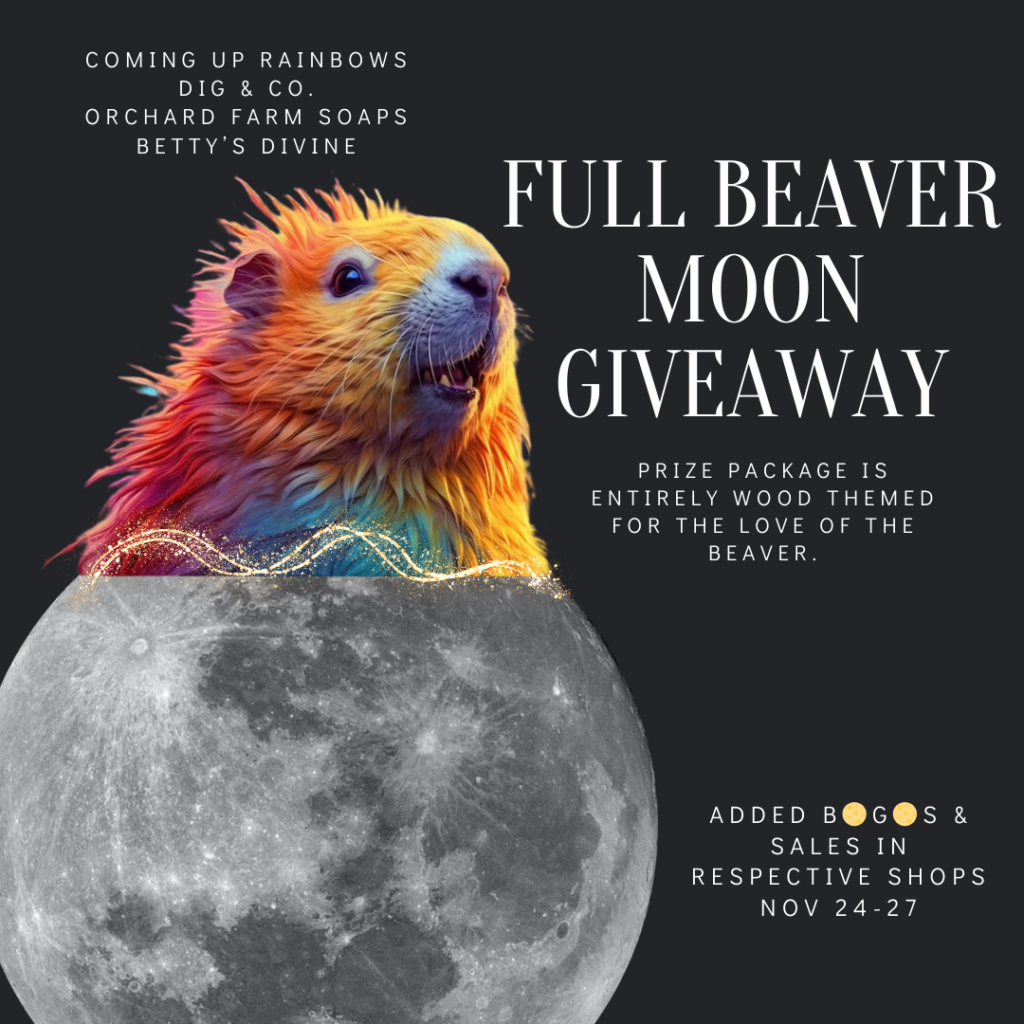 Meet the Full Beaver Moon Team
Dig
Dig + Co. is a carefully curated boutique shop full of utilitarian, safe, green products. Nici uses the products she carries in her garden, kitchen, home, and life. She's also known as Dig this Chick, a wealth of homesteading knowledge. Her "Co." products come from small business owners across the globe. She's one of the most thoughtful humans I know. I'm really lucky we registered for the same women's studies class 25 (ish) years ago. I love her to bits.
Betty
Betty's Divine is a clothing store with a small business in the back called Divine Trash. Psst: Divine Trash has a subscription service that you want to sign up for! Aimee is an innovative thrifter, not afraid to shake shit up. She's got countless gifts to share with this world. She'll push you to your limits, and take you places you never thought you'd go. Aimee is, hands down, my favorite adventure friend, although sometimes I have to stick to the backseat. If you live nearby the Missoula Hip Strip, she's the lady you want to consult for the next weird event on your calendar. Aimee is the bees knees.
The Magical Flower Farmer
Orchard Farm Soap is a farm in Moscow, ID, run by my friend Kate. She makes the best smelling, feel good products around. Kate's a no bullshit kind of lady. She works hard and plays hard. I met Kate (and her really fun family) at our annual 'Family Camp' when our kids were wee frog catchers. They still catch frogs, but now they probably also sneak beer out of the walk-in cooler. I'm always delighted when she's on the camp list for the next summer. Kate's one of the best skinny dippin' pals at camp. If you're in the market for a soap, salve or balm, Kate is your lady.
The Rainbow Alchemist
Coming Up Rainbows is our little shop. The inspiration for opening CUR was the desire to find safe/effective body care and cleaning products. Turns out, you can make them yourself, with a little nudge. I started teaching DIY classes first, but sometimes it is difficult to find time to make your own products. We still have classes available, btw. However, if you're not the DIY type, we highly recommend our best-selling Pit Stick and our array of Bundles make lovely gifts! Your body, family, endocrine system, and home will thank you.
If you're a business that would like to participate in a giveaway with our rainbow brand in the future, please reach out. We like to keep them running all year!