This is our second LOVE lunch of the week. I neglected to mention that school was canceled on Monday because the building's heater broke. So, only two love lunches so far. I'll try and keep them coming.
Today the boys will eat peanut butter and homemade plum jelly with a little extra love on Wheat Montana Bread.  Those Rome Apples, that just happen to be filled with a little extra love – we were excited to see extra traces of red inside the apple when we cut it apart this morning, kiwi, homemade applesauce, clementine, milk chocolate hearts, heart gummi sweets, soy sauce fish and rice balls with a little bit of lime pork surprise in the center and we're full. Now a little snip of what I'm aspiring to, probably not really, but a girl can dream. I met a new friend. She RULES! I couldn't let the day pass without sharing her blog. She even went to sushi school in Tokyo. If you have a few minutes to check out her magic, you ought to.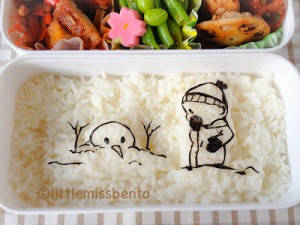 This lunch in particular was one that my kiddos were really really excited about. All they do, in their quiet time, since Christmas, is bury their faces in the Calvin & Hobbes collection we got them. They are in love, obviously. Maybe little miss bento can come and make them lunch someday? Happy Love Week!