New Sweater – Knit in the Round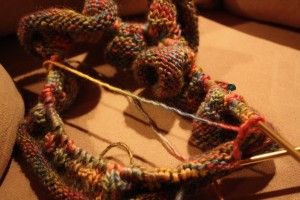 I'm starting another sweater, I tore out the sweater for my sweet husband – that will be a project for later…
I started my sweater a few days ago and pulled the entire thing out last night. I decided on a hoodie of sorts. I didn't want to deal with a zipper though, so I'm knitting a pullover hoodie. The pattern I picked I found on Ravelry. The sweater is called the Weekend Hoodie, unfortunately not a free pattern, but one that looked pretty much spot on. I love having a hood on my sweaters, it is a definite bonus on windy/chilly spring days. I decided to start with a sweater for myself, maybe that is  selfish, but I haven't made a single thing for myself yet so I suppose it is high time!
I ran into problems right from the get-go, you'd think after all of the knitting in the round I do, I would have it figured out, but I definitely didn't! The second row was the reason for pulling my entire sweater apart. When I say entire sweater – I was on row 12 ish…so not really that far, but when you cast on 220 stitches it feels like a LOT. I started over after figuring this out….
Flat Knitting:
garter: knit every row
stockinette: knit 1 row, purl 1 row
reverse stockinette: purl 1 row, knit 1 row
Round Knitting:
garter: knit 1 round, purl 1 round – this is where I went wrong. I was just knitting, knitting, knitting…not making a very appealing bottom to my sweater.
stockinette: knit knit knit every row
reverse stockinette: purl purl purl
I mean, it makes perfect sense when you think really hard about it, problem is I wasn't thinking very hard about it.
Before I sign off I should tell you about my delicious yarn choice. I keep going back and forth between whether or not I like it enough to wear that sweater as much as I ought to once it is complete. I think today I'm pretty into it. It is a Cascade Yarn – Lana Bambu. It is 79% Wool and 21% Viscose from Bamboo.
I'm taking a sweater class to complete this project. I cast on 220 stitches on my brand spankin' new Addi needles (size 6) and I've moved onto the Addi lace needles (sharper points) in size 7 and I'm going for it. The pattern is knit rows 1-3, p3, k1 on row 4 and start over knitting again. I think the pattern will be pretty fun when it gets taller, I'll keep you posted.
Oh and I'm going to make a video of how to switch to a new ball of yarn as soon as I need to do so. If you missed the ball winder and swift video and you feel like throwing up, you should check it out.
Happy Knitting!