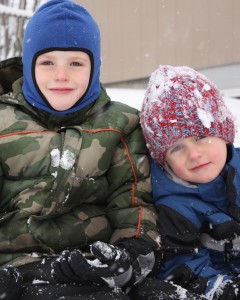 Look at my sweet little snow monkeys.
Ooh nothing like some Nutmeg in your holiday pumpkin pie. This is an oil that I don't use often enough but it seemed fitting to talk about this time of year. Of course you'll want to always keep in mind that the Immune Boosting oils are ever-increasingly important this time of year so if you have a second you should look back at that post to refresh yourself.
I've also had a lot of requests for more First Aid Kit information – I will try and do a refresher in the new year.
So back to my choice for December. I decided to challenge myself a bit – this is an oil that I own – but it was given to me and I rarely use it – even though I really like the smell of it. It just isn't an oil that comes to mind when I'm looking for a quick fix to an upset stomach, owie, headache, or head cold (most common complaints at our house these days). So what would I even use that sweet smelling Nutmeg for? This is the very question I asked myself…so I'm going to share with you what I found out.
Just as you would think this oil is a very comforting and soothing oil – it reminds me of the holidays and that always brings a little warm feeling to my heart. I'm such a total cheeseball for the holidays. I look forward to Thanksgiving and Christmas all year round. So, why not diffuse a little bit of Nutmeg to get you in the spirit? Nutmeg supports the adrenal glands to give you energy, so if you are feeling a bit drained you can use this for an extra good smelling boost.
It supports your nervous and endocrine systems and is helpful with prostaglandin balance. It is an anti-inflammatory, antiparasitic, antiseptic, stimulant (cerebral and circulatory) a laxative and a tonic.
There are an array of uses for Nutmeg . It may help with arthritis, bacterial infection, circulation, gas, gout, impotence, immune support, joints, menstruation (regulates scanty periods and soothes pains), muscle aches and pains, nausea, nervous fatigue, supports your nervous system, and vomiting. It has also been said to assist with loss of appetite, chronic diarrhea, digestion, gallstones, halitosis, and rheumatism. Phew, now that is quite the list.
One thing I'd like to mention is a warning that I read about the use of Nutmeg if you are epileptic – you should not use Nutmeg if you have epilepsy or are prone to seizures.
I took the majority of this information from the Reference Guide for Essential Oils. [phpzon asin="B003S6BVU6″ country="US" trackingid="mamalovesoils-20″ templatename="asin"]
Ooh I also just read in my Essential Oils Desk Reference that Nutmeg is good for ulcers, it is a good liver protectant, and helps to increase the production of melatonin. It is also used for hypertension. This info comes from this book… [phpzon asin="0943685494″ country="US" trackingid="mamalovesoils-20″ templatename="asin"]
So there you have it, a 5 ml bottle of Nutmeg for $15.46 retail or $11.75 wholesale would be a great addition to your oil collection. Plus it is the perfect holiday oil. You can ingest, diffuse or topically apply this oil. Of course I'll remind you – I'm not doctor, but these oils have worked just like medicine for my family – that's why I love to share info about them!
Happy Holidays to all of you fellow oil lovers, and keep in mind that giving oils as a gift is a great unique gift and who wouldn't love a bottle of oil (or 2 or 3) to keep them healthy year round?! Go here to purchase oils if you'd like to stuff someone's stocking with goodness. In the spirit of giving I'm giving away a bottle of Peppermint oil this month. It will be given away on my facebook page so go there and "like" it. Yes I'm bossing you – simply write something sweet on Mama Loves Oils' wall preferably oil related – maybe just tell me what your favorite oil is and why…and I'll randomly select a winner on the 20th – so you'll get your Peppermint oil in time for Christmas. You can drop a drop or two in your hot chocolate on Christmas morning. AND – I'm giving away a bottle of Nutmeg on this here page so leave comments here to qualify for that spectacular prize. I want to hear about the oils you love and how you use them…so please share!