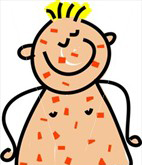 Since I had an inquiry today – thought I would do a quick blog post about my findings.
So in addition to the usual Calamine Lotion – you can add drops of Roman Chamomile or German Chamomile, and Lavender.  I am looking at a recipe while I type that calls for 10 drops of Chamomile and 30 drops of Lavender, but if you are using Young Living Therapeutic Grade Essential Oils you might not need quite as much in an 8 oz bottle of Calamine Lotion.
Bath ideas taken from my favorite book these days:
[phpzon]"","","","",1577310950[/phpzon]
Oat Bath: Handful of Oatmeal, 4 drops Roman Chamomile and 4 drops of Lavender. I would put the drops of oil right onto the oats themselves and put in a muslin bag. You can hold it under the faucet while the tub fills up as well.
Salt Bath: After your bath is filled add some sea salt in addition to one drop of Lavender and a drop of Tea Tree oil.
Soothing Bath: Combine 1 cup of baking soda, 2 drops of Lavender and 1 drop of German Chamomile (or Roman Chamomile). Mix well with a spoon before adding to bath.
Roman Chamomile is a very soothing oil all around and very safe for kiddos. I will be writing more about this oil for my May Oil of the month. We use it nearly daily at our house. It is very soothing for any sick kiddo and great for your skin. I would say that Gentle Baby oil might not be a bad idea either for relief, even just to diffuse, to calm little ones.
Also for Chicken Pox sleep is very important. A list of oils taken from the reference guide that help with these little scratchy buggers are: Bergamot, Eucalyptus, Lavender, Melaleuca (Tea Tree), Roman Chamomile.
[phpzon]"","","","",B001IW3J4S[/phpzon] A soothing bath recommended in this book contains 2 drops of Lavender and 1 cup of bicarbonate of soda in a bath and soak.
Another suggestion is to add Ravensara to some Green Clay to form a paste to dab on the pox to relieve itching.
It is a good idea to diffuse an antiviral oil such as Lemon and apply this oil to the body a couple of times per day as well. Remember to be mindful of the sunshine if you apply Lemon oil directly to sun-exposed skin.
Some oils mentioned in the Essential Oils Desk Reference are Sandalwood, Melissa, Clove, Geranium. Be careful with that Clove (it is hot – diffusing it might be best).
Geranium
is always great to use for kids as well.
So I think that pretty much wraps it up.
I'm kind of hoping my kids get chicken pox since they haven't yet – so if you have them to offer – we'll come over for a playdate. Get well soon!