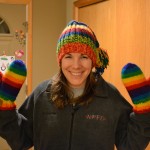 First thing's first – here is my happy 'rainbowed' sister. They match! I had my concerns, but mash an incredible amount of color together how would you not get a match? A rainbow is a rainbow is a rainbow.
Now onto the newest addition to Mama Loves Knitting! I've decided to find and share a free pattern each week. The patterns will be fairly simple projects to start – to accommodate my skill level. I try to include a pattern for each of the completed projects I share with you, but often they are creations that happen when I start knitting (in the moment). I thought this new weekly event would be a good way to share more patterns that are intriguing to others, maybe a few less hats, heh. I encourage each of you to send me photos of your completed projects if you end up using one of the patterns. I'd love to feature your talents!
Drum roll please….this weeks' pattern can be found on one of my favorite blogs, The Purl Bee. The pattern I've decided to share is a project that I'm intending to complete sometime this winter, long striped hand warmers. Don't they look so cozy? And the possibilities for color combos are endless.
Happy Knitting – stay warm!