Project Tote and Sweater Progress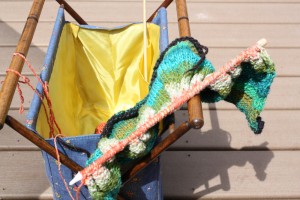 I really scored this weekend at a yard sale. I nabbed up a cute little knitting tote or project tote. I don't know what they are officially called I just know that all of the inspirational knitters in my life have them and mine was $1.00!
It came at the perfect time since I've been spending a lot of time knitting out in the sunshine.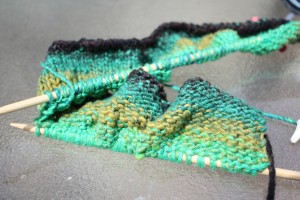 I like to sit on our back deck and soak up some Vitamin D while I work on Shane's sweater, watch my kids and chickens play, and watch my garden grow. The problem I was running into was that my ball of yarn seemed to fall off the table and somehow target a pile of chicken poo, which doesn't tend to have a very good outcome. This is no longer a problem! I can keep my ball of yarn in the knitting tote, poo free!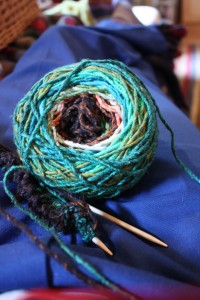 I've made some progress on the sweater I'm working on. I'm using chunky Noro Yarn – that I'm completely in love with. It is great to work with and self-striping and the colors are great! I started off using size 6 needles at the bottom. The first piece I'm working on is the back. I think I cast on 99 stitches and I used size 6 needles for 6 rows of 99 sts in stocking stitch or stockinette stitch (which is just knitting one row and purling back on the other side). After those six rows the pattern tells me to switch to size 10 needles and work 16 + inches. I thought I loved the look of this pattern on Ravelry when I was admiring a photo of someone's completed project, but once I visited the pattern on Yarn Forward I wasn't as impressed. I decided today that a stripey colorful version will look much different. I can always fall back on myself as the owner of the sweater if all else fails.
One thing that I have thought of, is since this pattern is having me do the front independently from the back the stripes most likely won't match up, but I don't think I care and who knows, maybe I'll get lucky. The cable stitching near on the armholes will also prove to be very tricky, as I have no idea how to work with cable needles. I will learn I suppose! And I realize that might be a matching nightmare also – again I don't think I care. I just wanted this first sweater to be a fun, toasty, colorful sweater and I'm prepared for the imperfection that comes with it. I think the Noro yarn will make up for it.
My little model wasn't thrilled with me, he was just trying to enjoy his frozen yogurt pop.
More to come soon on the sweater, just knitting my "spare" time away.
Happy Knitting!