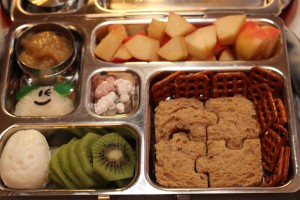 I love me some rice and egg faces. Today we've got a tasty tray-full of puzzle sandwich (peanut butter and jelly style), pretzel squares, hard-boiled hen egg (bunny style), kiwi, rice face (I usually punch the faces out of Nori) – the hair isn't edible, vitamins (to make you big and strong), diced organic apple, and some homemade applesauce.
I used to put juice boxes in their lunches, but now they just get water in a 12 oz Klean Kanteen. I had to upgrade their carrying cases this year and the new pockets can easily accommodate that small stainless steel bottle. The water makes me so much happier than sending a sugary juice – organic or not they are chock full of sugar.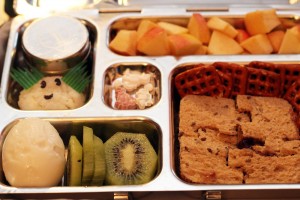 Sometimes eggs are impossible to peel. Anyone that has any tips – that actually work – in that department – I'll take them!
Happy Cold Lunch!