Scarves Scarves and More Scarves
I have a couple of scarves that I want to share today. I think I pretty much did the same pattern on both of them, but I can't see them super close up so I can't say for sure, cut me some slack – I have a lot to remember. So I used the same kind of yarns for both of these. I used Wool-Ease (Lion Brand) Lamb's Wool and Easy Care Acrylic – Super Bulky. "Thick & Quick" truly. It is easy to knit with – I used big needles again. I can't be sure of the size though – if I had to guess I'd say size 13 needles. I was really into the idea of mixing two strands of yarn together so I did with both of these projects. I used part of one of those that giant balls of yarn I mention in my first scarf project and Grandma's neck warmer.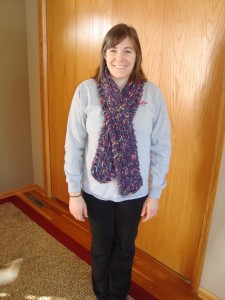 There she is – Miss America – she's not going to be too stoked I put this photo on my blog – she's actually really my cute button of a little sister. What a super model huh? She's wearing a purple version.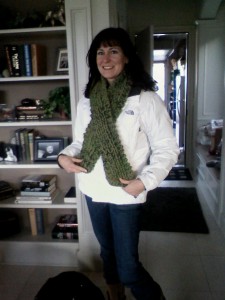 And my equally stunning Aunt Ellen wearing a green version – same Wool Ease yarn mixed with one of those giant balls of yarn. Now that I'm finally getting around to posting these projects I realize I've become a bit of a yarn snob – so there will be yarn snob yarns intermixed with others from places like Michael's and Joann's simply because I cannot be wasteful, right? So there ya have it! So I guess it looks like a giant ribbed stitch from back here. I remember doing a lot of both knitting and purling.  It wasn't a pattern (of course) I just played with it until I liked how it looked and then got in the zone.
Happy Knitting!