Sloppy Joes, Diced Apples and More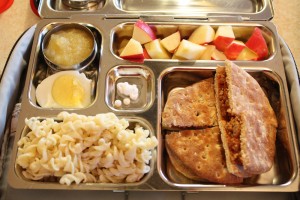 Hard-boiled 1/2 hen egg is a good way to hide the world's worst peel job. This lunch is a collaboration of leftovers I found in the fridge this morning. Sloppy Joe in a thinwich, leftover Annie's Macaroni and Cheese, a diced organic apple, some applesauce (just to double apple it up today) and the ol' standby pile of vitamins. This was another version of today's lunch…2 kids…2 sets of taste buds. Oh but first I'll give you some Sloppy Joe eye candy.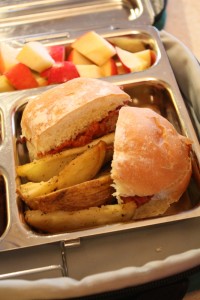 Version 2: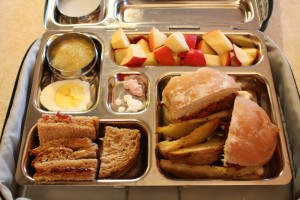 For some reason I found it necessary to add a Peanut Butter and Jelly to the mix – double sandwich lunch. Simon is allergic to dairy so he didn't get to have the macaroni like Gus. The crazy part is…he totally eats ALL of this food. And, he's 6.