Sunshine Breakfast and Lunch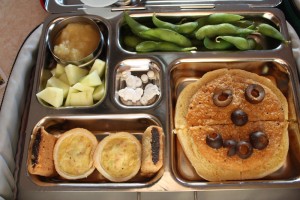 One of my favorite things about the morning – this time of year – is the sun is streaming in through our windows. I don't have to worry about bumping the ISO on my camera all kinds of happy light.
This was saved in "drafts" forever and I just found it. It seemed adorable enough to post even though I'm not sure exactly what we're looking at here.
The photo description reads "smiley fake pizza." Why not? It looks like maybe a pizza with fake cheese – mini style. The rest: Mini quiches, fig cookies, edemame, vitamins, diced apples, applesauce and olive face.
I know what it is now…it is a Quorn Pattie on a 1/2 bun.