Sweater Progress & Stole Pattern
This time I can say with confidence I WILL be finishing my sweater! I am so excited about it. I've got the back all knit up and I've started up the front. I'm hoping to have it complete before I go off to Mexico, on Cinco de Mayo, but we'll see.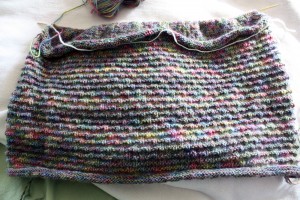 It may not look like that much at this point, but I'm pretty darn proud of it. The pattern I'm using is converted to knitting in the round. Since I've started this project I've learned a lot! I didn't realize it was so simple to convert a pattern to knit in the round. Most of the sweater patterns I looked over instructed the knitter to knit the back panel, followed by the front panel, and then sew two pieces together. That just didn't make sense…so I sought out some aid and Terry (the Knitting Jedi) helped me convert this pattern. I'm knitting in the round and actually even after the split I'm still using my circular needles. It is a bit much to wrap your head around, as I mentioned in a previous post how patterns completely change when you knit in the round.
Ooh and another cool trick is this stitch holder – who needs a real stitch holder – you can just use a piece of yarn. This cream colored yarn is holding the entire front of my sweater together, while I start knitting up the back.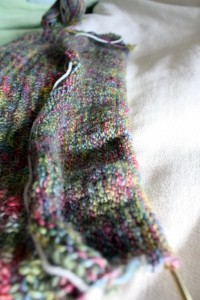 My pattern doesn't look too complicated, and it actually isn't, but when I end up knitting in the pattern from the wrong side (WS) it gets a bit tricky. I find myself flipping my garment over often to make sure I'm staying in pattern. That gets old. I wouldn't do it that way the next time around. I'd make sure that I was on the RS so I could k1 and p3 and see what I'd done the row before, etc. Anyway that is boring…so here are a few more pictures (with plenty more to come) and the pattern of the week (or two weeks).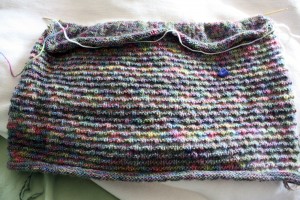 I heart my yarn. Cascade Lana Bambu Yarn. Now I need to order more because I didn't get enough…bummer! And of course the dye lot in the yarn shop isn't the same anymore. Argh.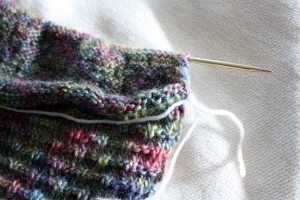 That's it for the weekend hoodie (at least for this week).
The  pattern of the week can be found here. It is a cool site with free vintage patterns, and I just happened to choose this stole because I love the pocket.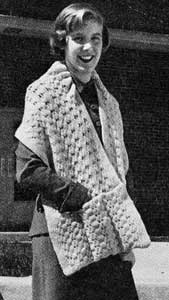 Happy Spring Knitting!