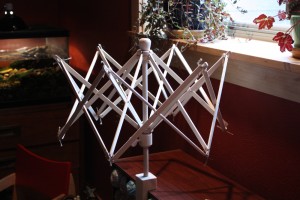 I decided to take the plunge. I don't mind visiting my favorite local knitting shops to convert my hanks to something more easy to work with. But, since I order yarn online quite frequently I decided I wanted to have the means to make my very own yarn cakes whenever I darn well please! Don't get me wrong I adore the winder that I used to take complete advantage of, but this made a lot more sense to me. So I got myself a pretty pine swift and got myself a ball winder to go along with it. My kids are having more fun with it than me. The swift attached nicely to my yarn cubby and we just put the ball winder on the little table from our store.
It is very easy to move around so it doesn't get in the way, it is easy to store the swift and winder away whenever we want to, but oh so nice to be able to take them out whenever the need arises. This little guy takes his yarn cakes very seriously!
In case some of you might not know what the heck this all means you untie a hank of yarn and open it up around a swift (they come in an array of different sizes and styles). You find the ends and pull one of them over to a ball winder (or just use your fingers).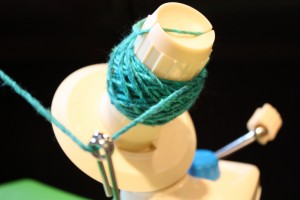 You just turn the crank on the ball winder and the swift spins about while the yarn winds up really nicely. I like to make pretty little cakes and that is precisely what this ball winder will make for you.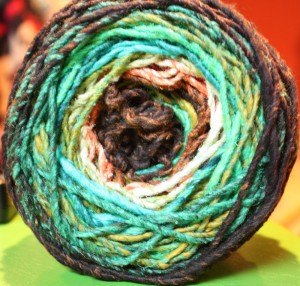 Mmm that is a delicious looking cake! I'm going to use this cake to start my sweater! It is in the very very beginning stages…pretty exciting! Wish me luck.
Happy Knitting!