Turkey Sandwich, Watermelon and More
Today is a pretty exciting day at our house! Simon made sure to let me know that I HAD to use his new lunchbox this morning and I love it! I plan to use this lunchbox for many of our lunches now so you'll probably see a little bit of both. Look at all of the deliciousness that can fit in this Planet Box! Our lunch has a turkey and veggie cheese sandwich, some watermelon (which makes it feel just like summer), baby corn, black olives, organic peas, organic strawberries, a couple of Fig Newmans and a couple of frosted star cookies. If you like this new lunchbox you can check them out here. It is all one piece…well with the exception of the extra containers (the Big Dipper and the Little Dipper) like this one below (the Big Dipper) containing some Sour Cream and Onion Pirate Booty. This container can fit inside the lunchbox itself or it can slip into the front pocket of the Carry Bag.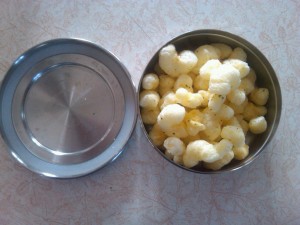 I love that it is all one piece and you can put it right in the dishwasher at the end of the day. There are other perks too like the hip magnets that you can decorate the outside of your lunchbox with. What a great way to personalize your lunch! Simon chose Sports Balls and August chose Rockets (more photos to come!).What a wonderful eco-friendly way to enjoy a well-balanced lunch. Thank you Planet Box!
Enjoy your lunch!