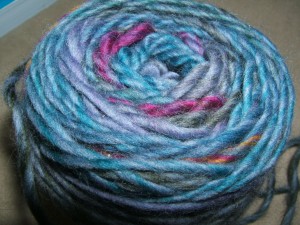 So many choices – luckily so much to knit. Alongside knitting I've developed quite the yarn obsession. I could spend a million dollars in a yarn shop and as promised I want to mention our beautiful local yarn shops. But first I wanted to share a link to a pretty fun online yarn shop, where I also buy a lot of fabric too. Purl Soho is the name – I'm sure a lot of you have visited this site…if not…you ought to.  Loopy – Knit/Crochet is the name of the local shop where I took my knitting class. They have a web site – no yarn for sale – but a listing of their classes and a few photos of how yummy and magical it is right when you walk in the door. The yarn pictured above was scored in their shop. The other local yarn shop which has a very different feel to it – still soothing and magical in its own way is called Joseph's Coat, this particular shop has been around for years but was closed last summer when the owner passed away and recently reopened under new ownership. I spent an hour in there today. The shopkeeper was kind enough to let me borrow her swift and ball winder to convert some hanks of yarn I bought from the only Etsy yarn shop I've shopped at – so far – in my 2.5 months of knitting, Skyline Yarns. I came across this particular shop because an old friend of my from high school is a friend on Facebook now and she mentioned something about her yarn being back in stock…ding ding ding! So I wanted to share. She makes some pretty beaded stitch markers that I scored that look much like these…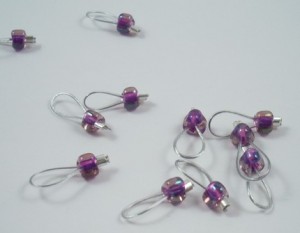 I know there is ALOT of yarn on Etsy – this is just the tip of my iceberg – to addiction – but I wanted to share the few places I've already fallen for.
Now as for creations. I am working on my first hat – I'm about 1/3 of the way there but I still have tons of other photos to share. I made a handful of scarves (experimenting with different stitches – never using a pattern) to spread amongst my loved ones during the gift giving season so I'll put photos of those up as I get them, since I forgot to take photos before they were packaged up and shipped off.