My year has been full. It has been full of love, friends, family, knits, change and all kinds of good stuff. I embarked on new projects this year, tried new things, grew a bit as I feel like I do with each new year. My kids are obviously growing too, I'll be doing some shopping for Simon in the new year he barely fits in any of his clothes these days. It warms my heart to see both of my boys still loving their knit hats I made them back when this whole new passion became a part of my life. The hats were one of my very first projects.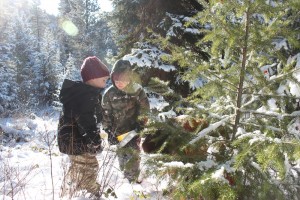 This year I've been crankin' hats out. I can make one in no time flat anymore, all I need is one evening and a good movie and of course some chunky wool and my 10.5 circular needles. It doesn't hurt to have my husband snuggled beside me on the couch either, never does really (knitting or not). I still have a couple of projects in the works. My sweater for example. Sheesh when will I ever finish that bad boy. But I've made two baby blankets over the course of the past few months and several hats.
Here is a quick snip of one of those blankets.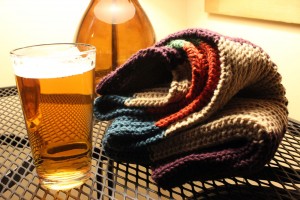 This one was for Baby Evelyn whom you met a few months ago.
Then I got to spend nearly a week with one of my favorites – knitting a few nights when we weren't cleaning, rearranging, and organizing at my store.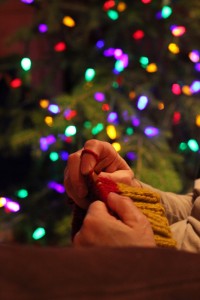 Here she is…knitting by our sweet little Christmas tree.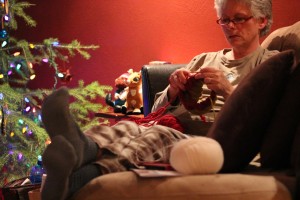 She brought me a surprise…a huge one…my sister and her baby whom I hadn't gotten the chance to meet yet. Baby William Jeffery.
The nights when we got to sit down and knit were, and always are, my favorite. The aforementioned hats I worked on for Christmas gifts were for my husband (whom I've never made a thing for – on purpose anyway) and his brother who happens to heart the Chicago Bears.
In order to complete these projects before Christmas morning I used some fairly chunky yarn and some size 10.5 circular needles. The yarn is malabrigo chunky in the hat pictured above. This hat I knit right in front of Shane (because I didn't really have a choice) but since he didn't inquire the gift ended up a surprise. This yarn is Kettle Dyed pure merino wool the variation in the skeins was so pretty. I decided to stripe it a bit – I'm a total sucker for vertical stripes.
The hat below was the Chicago Bears inspired hat that I decided to attempt a tiny bit of fair isle on. I don't really know what I'm doing but it sort of worked. I didn't know if my brother in law would like it though so I quickly knit up another ribbed hat for him too. Two hats on Christmas morning – that's a fine gift…right?
I finally found some Brown Sheep Yarn Co. yarn to use for the Bear's hat, but it was no easy task finding yarn, in one day, that came close to being the proper colors. Plus I needed wool…and it wasn't the softest wool – hopefully Bryan doesn't have an itchy head. I ribbed the bottom of the hat in the pictures above and then just knit knit knit (on circulars) and knit in those little fair isle stitches for a couple of rounds. I didn't use a pattern just decided to wing it.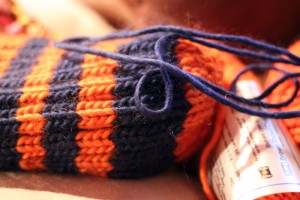 And now I'm feeling a bit more caught up. I realize it is actually February and I'm still reminiscing the end of the year. I guess I'm just in a much better space today than I was a month or so ago. Things are calming down and I'm filing through photographs. And, I'm getting excited to have the time to start some more new knitting projects. Happy 2012!