Bean and Ham Salad, Rice Ball and More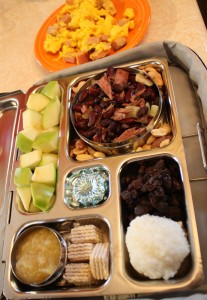 When you make a gigantic ham you have to get crafty. I concocted some bean, ham, celery, etc salad. Again, like usual, I didn't write down the recipe, so I cannot share to the tee what it consists of. It was pretty darn delicious though. And since the kids liked it, they got it again in their lunches. One of my favorite things about cold lunch and having leftovers is they go hand in hand.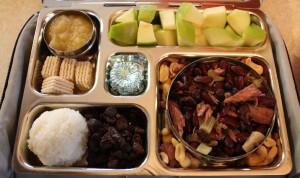 So here it is in its entirety today. Bean, ham and celery salad, surrounded by mixed nuts, a handful of raisins, a rice ball (made from bulk sushi rice), those delightful lemon wafer cookies, a chocolate piece (smack dab in the middle), a dollop of organic applesauce, a diced organic granny smith apple and most likely a juice box to wash it all down the hatch. Happy Friday! The school days are limited! I cannot believe I will have a 2nd grader and I'm hanging on to a wee one with one more year of preschool…but he turns 5 next school year. Yowsers – they aren't babies anymore.