I wanted today's lunch to be extra spectacular but the boys really wanted a special breakfast so we made pumpkin shaped pancakes – which ended up sucking up some of my normal lunch making time (and creativity). So here we have it.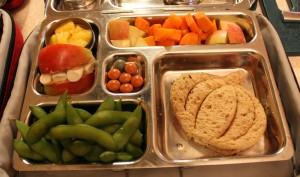 The teeth idea was found by my Mother-in-Law and I thought they were hysterical turns out they were a hit this morning with Simon and Gus! I just cut up an apple (from our apple tree) spread some peanut butter along each slice and used some marshmallows for the teeth. I actually got a good strong leg hug from one of the boys because they were so excited about the teeth. Thanks Lina Lou.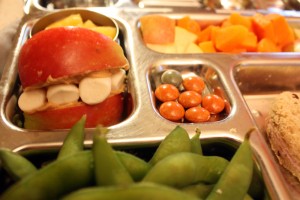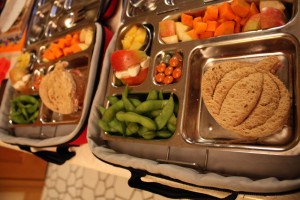 The sideways train throws off my balance a bit.
Both lunches were the same, some organic pineapple slices, a pumpkin shaped Ham Sandwich, some edamame, the toothful smile, pan fried carrots from our garden, apple bits from our tree, and a tiny little chocolate drop pumpkin in the center (please use your imagination and you'll see that pumpkin). Happy Halloween Eats!