Ham and Pickle Sandwich and More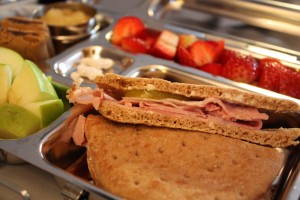 Now doesn't that sound delicious? Seriously – sign me up!
I guess I should have called it a Thinwich since that is the bread that Gus prefers these days. He doesn't even like "weguwar bwead." I try to get the whole wheat version since I'm not exactly sure how on earth to make thin bread in my bread machine. We smooshed some ham slices and dill pickle slices and Miracle Whip in there. He also asks for Miracle Whip on a regular basis now.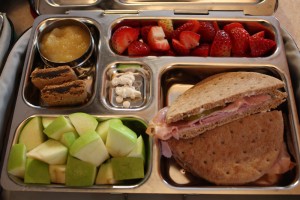 We also have some pretty diced green organic apples, diced organic strawberries, a couple of fig cookies, a dollop of organic applesauce and the vitamin pile that keeps us healthy. To drink we'll have an Honest Kids Juice Bag (I can't remember the flavor). Delicious Monday!